San Tan Charter School was created in 2008 as a new type of free public school in Gilbert, AZ. Developed as a K-6 Inquiry Based Learning Curriculum model incorporating applicable Montessori concepts and materials for a Public Charter School program. We are proud to be an accredited member of AdvancED; a non-profit, non-partisan organization that conducts rigorous, on-site reviews of educational institutions and systems to ensure all students realize their full potential.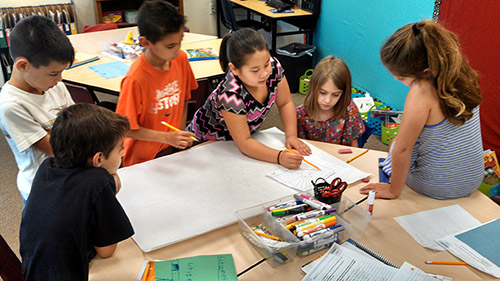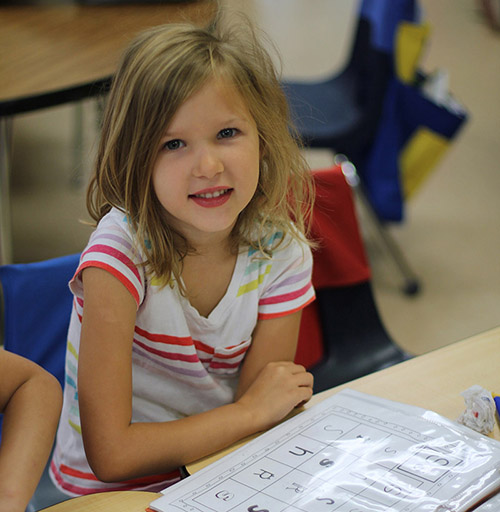 At San Tan Charter School, our Elementary program resides at our Recker Campus. Students, grades Kindergarten through Fourth, have three possible program experiences: Mainstream, Montessori, Gifted. Utilizing test results, observations, and conversations, we partner with our families to determine the best path for each student. Kindergarten is offered through half day or full day programs.
No matter the Elementary experience, students are made responsible and held accountable for their learning at every stage and level. All programs include an Roadrunner Roadmap which addresses the specific academic and emotional needs of each student. Each students Roadmap is discussed during the quarterly parent-teacher conferences, which include parent contributions surrounding homework levels and character goals.
San Tan Charter School firmly believes in promoting character education in all areas of the school day. Whether at work, at home, or at play, there are basic values that define ethical behavior. These values are not political, religious, or culturally biased.
As a member of the San Tan Charter School community, iLEAD with integrity, Love, and Empathy.  I hold myself Accountable and am Dedicated to serving others by demonstrating these values in my words and actions.
integrity: Speaking the truth and presenting oneself genuinely with a focus on the whole person through self-discipline and determination.
Love: Valuing close relationships with others by thoughtfully demonstrating kindness, patience and a deep respect for the diversity, feelings, and opinions of others.
Empathy: Imagining what it is like to be another person, in their situation, seeking understanding prior to acting.
Accountability: The acknowledgment and acceptance of responsibility for one's decisions and actions along with the results.
Dedication: Deeply committed to our community with a strong loyalty to our shared goals.
At San Tan Charter School, our elementary curriculum is standards-based and incorporates Physical Education, Health and Music into each student's weekly routine.
Explore our three elementary experiences