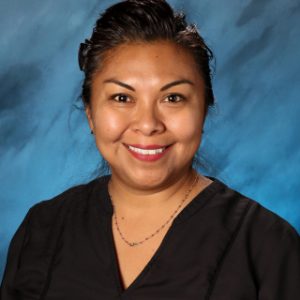 Kim Aguilar Montessori Kinder Teacher

National Center for Montessori Education
Montessori Early Childhood Education
My Bio
I am originally from San Felipe Pueblo in New Mexico. I moved to Phoenix, Arizona 18 years ago with my husband Andy, and our daughter Victoria, she is now 23 years old and graduated from ASU last year.  We have one dog who is treated like the baby of the house, and he is kept in good hands when our family enjoys another passion … traveling! Our last fun adventure was to Alaska. 
Birthday: January 2
--- My Favorite Things ---
Color(s): Yellow
Flower(s): Sunflowers
Healthy Snack(s): Almond nuts
"Junk Food" Treat(s): oatmeal cookies
Drink(s): Chi Latte and tea
Scent(s)/Essential Oil(s): Eucalyptus
Game(s): Rummikub
Sit-Down Restaurant(s): Passage to India and Olive Garden
Fast Food Restaurant(s): Zupas and Chick-fil-A
Place(s) to Receive a Gift Card: Amazon, Target, and Michaels
Most used school/office supply: Gel Pens
What I would really like is: I would like to see England win the World Cup Soccer!
Heroes: My mother
Hobbies: Painting and scrapbooking