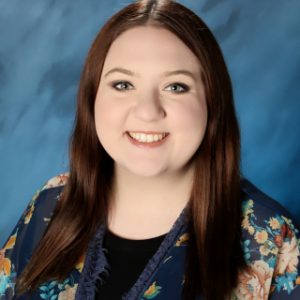 Jorie McQuaid Music and Drama Teacher

Southern New Hampshire University
Bachelor of Arts in Creative Writing and English
My Bio
Hello, my name is Jorie McQuaid and this will be my 2nd year teaching at San Tan. I am thrilled to be teaching show choir, drama and dance at Power and general music at Recker this year!
I previously attended Scottsdale Community College as a Theatre major and I am currently attending Southern New Hampshire University to earn my Bachelor of Arts in Creative Writing and English.
I have experience as an actor, drama teacher, director, choreographer, stage manager and lighting and sound designer. In addition to my classes, I also offer a fall play and a spring musical open to all students at San Tan. I am thrilled to continue teaching because I believe that students involved in Theatre Arts develop skills that enable them for success in the real world, such as teamwork, leadership, time management, public-speaking, integrity and discipline.
When I'm not teaching, I enjoy spending time with my husband Grant and my two chihuahua's Peanut and Crash! I also am probably planning my next Disney trip or watching a musical.
Birthday: July 30th
These are A Few Of My Favorite Things…..
Color(s): Black, green
Flower(s): Roses
Healthy Snack(s): Veggies with ranch
"Junk Food" Treat(s): French fries
Drink(s): Coffee, water
Scent(s)/Essential Oil(s): Lavender, cedarwood
Game(s): Uno, Scrabble
Sit-Down Restaurant(s): Abuelos, Outback steakhouse, Oreganos
Fast Food Restaurant(s): Freddy's, Culvers, Panera Bread
Place(s) to Receive a Gift Card: Hobby Lobby, Ulta, Starbucks
Most used school/office supply: Pencils!
What I would really like is: To spend a week in New York just to watch Broadway shows!
Heroes: Jesus & my hubby!
Hobbies: Spending time with friends/family, planning trips to Disneyland, traveling, shopping, video games.