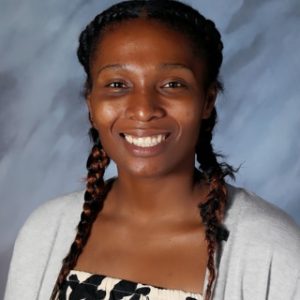 Cierra Warren English Teacher/Head Women's Basketball Coach

San Diego State University
Communication, Candidate for Masters of Arts Liberal Arts and Sciences
My Bio
Hello! My name is Cierra Warren, I am excited to be going into my fourth year teaching 7th-8th Grade ELA and now my first year with 9th graders. Last year was fantastic, watching my students mentally and physically, and mostly seeing so many gain confidence in abilities they never knew they had. The goal I have for all of my classes is to make sure all students enjoy coming to my class and that they develop a new love for reading and learning.
I am a Southern California native that played basketball and graduated from San Diego State University. After graduating I played professional basketball for 5 years. I moved to Arizona and a lot has changed I started coaching for a basketball program, now  teaching here at San Tan is my new found joy.
I enjoy teaching English because I believe the ability to read and write can help a child's confidence grow. Over the years as an athlete I've seen how mastering a new activity could bring joy and an unspoken feeling of confidence. This confidence is key in the development of children and can carry into other areas of a child's life and on into adulthood.
When I'm not teaching, I am coach for a basketball club program out of California called West Coach Premier and club volleyball under the guidance of Nikki Rev. I spend a lot of time with my family and the family I have gained over my years of coaching and playing. My favorite thing to do is babysit my nephew Josiah James, who now has a little sister but she is not as nice. I am expecting my first niece this summer, who will one day make me broke.
I praise God for all of his guidance and love.
Birthday: April 11th
These are A Few Of My Favorite Things…..
Color(s): Yellow, Pink
Flower(s): Allergic
Healthy Snack(s): Kettle Popcorn
"Junk Food" Treat(s): Vanilla Sprinkle donuts
Drink(s): Chai tea Latte, Aloe Water
Game(s): Uno
Sit-Down Restaurant(s): Cheddars
Fast Food Restaurant(s): Panera
Place(s) to Receive a Gift Card: Walmart or Target
Most used school/office supply: Pencils and Pens
What I would really like is: Anything with donuts on it
Heroes: Batman
Hobbies: Sleep, Basketball, Hiking