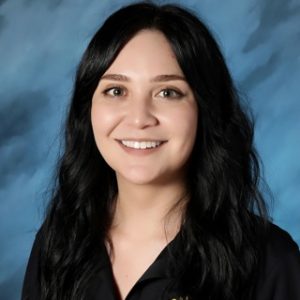 Arianna Lupercio Montessori Toddler Assistant
My Bio
Hello! My name is Arianna Lupercio, I am excited for my journey here at San Tan Montessori Preschool as a classroom assistant. I am grateful that I get to spend time and build relationships with our students, it is amazing to see them grow every day.
I grew up in Yuma, Arizona and just recently joined the Gilbert community and am so glad to be part of a community that cares so much about our youth.
In my free time I enjoy walking my dogs, being in nature, reading, watching movies and cooking. I'm ready for a fantastic school year! 
Birthday: December 12
--- My Favorite Things ---
Color(s): Green, Grey, Mustard Yellow, Navy Blue, Black
Flower(s): Sunflowers
Healthy Snack(s): sunflower butter with apples, spicy hummus and cucumber
"Junk Food" Treat(s): peanut butter filled pretzels, tortilla chips and salsa
Drink(s): any kind of sweet iced tea, lemonade
Scent(s)/Essential Oil(s): patchouli, lavender,
Game(s): board games, jigsaw puzzles
Sit-Down Restaurant(s): Picazzo's, Clever Koi
Fast Food Restaurant(s): Del Taco
Place(s) to Receive a Gift Card: Target, Amazon
Most used school/office supply: Pens
What I would really like is: Books
Heroes: My dad
Hobbies: Hiking/going on walks with my dogs, reading, tv & movies